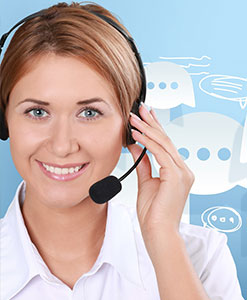 9 out of 10 people would rather 'Text' a business than call or email it. When you consider the benefits it's pretty easy to understand why. Whether it's ordering drinks at a busy bar, asking for extra set of towels at a hotel, picking up a car from the valet parking or reserve a haircut at a hair salon, texting is the simplest, fastest, and the most effective way to obtain services. Texting is a natural behavior, everyone knows exactly how to use it, with virtually no learning curve it's the best tool to contact and buy products and services from all kinds of vendors. So, any consumer facing business must have the tools to capitalize on this trend. The fact is vast majority of businesses do not have the infrastructure in place to fulfill this customer demand.
Facts :
If you are a consumer facing business, you need a solid mobile messaging strategy to service today's customers.
9 out of 10 people would rather 'Text' a business than call or email it
With plans starting at less than $5 a month, it's a no-brainer to activate the SMS/text channels of your existing business number.
Your customers are probably trying to text you, and you're looking the other way!
Benefits:
Artificial Intelligence and machine Learning

Text Aspect service is equipped with the state of the art artificial intelligence technology that conducts natural conversations with customers via text and helps them fulfill their orders with no human intervention required.

Receive and Send text messages in variety of ways

Text messages can be sent or received via a secure web portal, your email or cell phones.

Multi-user/agent environment

Allows multiple staff members receive and respond to the text messages from the same number.

Retain your existing customers and obtain new ones

Customers love easy communications and choose to do business with places that provide them.

Low Cost of Adoption

Its very inexpensive to enable text messaging to your business number. Please see our pricing plans.
Discover how our communication solutions can increase your productivity and reduce your business costs.
See how it works by sending yourself a SMS:
Test our automatic chat bot.